Welcome to Kettering Seventh-Day Adventist Church

DUE TO COVID-19 GOVERNMENT RESTRICTIONS AND THE WELLBEING OF OUR CONGREGATION AND COMMUNITY, THE SDA KETTERING CHURCH AND ALL SDA CHURCHES IN THE BUC WILL BE CLOSED UNTIL FURTHER NOTICE. If you would like to be added to our church Whatsapp group to receive daily devotions and encouragement with church members during this time, please contact Anegla on +447816271501 and ask to be added. Updates for Zoom prayer meetings and Youtube services will be provided there. We may be apart but we can remain close in spirit. 


Please Visit our YouTube channel and click here  for our latest services and worship videos.

Please do subscribe to NEC youth on YouTube for their regular worship sessions, challenges, discussions and services, great for the whole family including live interaction! Click here to visit their YouTube channel.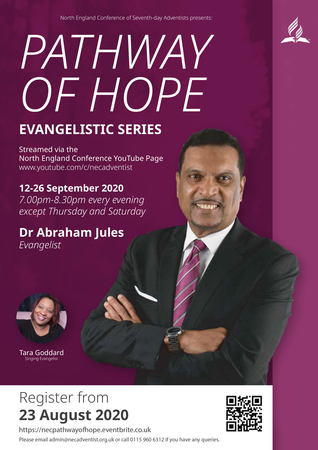 Click Image above to visit PathwayOfHope.co.uk to register or find out more about this event. 

Whether you are visiting our website or visiting our church, we want you to feel a part of the family.

You will find a warm welcome at our church any Saturday (Sabbath) morning or whenever we are open.

Our address is:

41 Canon Street 
Kettering 
Northants 
NN16 8RD

Click Here to Find us on Google Maps

PLEASE NOTE: There is parking available at the church. If you need to park in a local side street, please collect a parking permit from the Deacon on duty.

Service Times (not operational until further notice): 

Every Saturday (Sabbath)

Bible Study Hour
(Adults and children):   10.00am - 11.00am

Family Worship:             11.15am til 12.30pm

Preaching Rota:
TBA until further notice

GDPR Notice

GDPR Notice from North England Conference

Please click on the above link to read the official notice sent to us by the NEC of Seventh-day Adventists in the UK.

Prayer Requests 
If you have any requests that you would like to ask the church to pray for, please click here and give us the details.


***REVELATION SEMINAR***

The seminar has now finished and many of them were recorded and are now available to view on our website and YouTube channel. We hope you will be blessed. (click on the link below to access the videos)